ANTALYA AIRPORT CAR RENTAL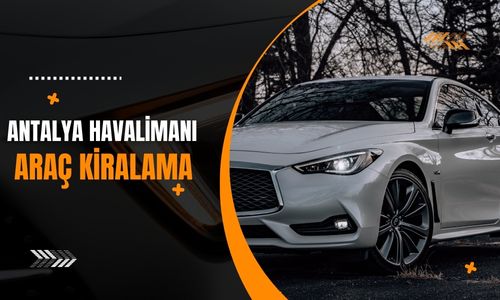 Antalya, which is one of the preferred holiday cities of many tourists not only in Turkey but also around the world, welcomes millions of domestic and foreign tourists every year. In this sense, the transportation network is also developing with each passing day. Especially those who come from a long distance within the country and those who come from abroad prefer transportation by air. Although transportation networks have developed in Antalya districts, Antalya car rental would be more ideal to provide a more convenient transportation to natural and historical places such as Olympos, Lycian Way, Termessos Ancient City, Perge Ancient City, Duden Waterfall, Kurşunlu Waterfall, Manavgat Waterfall, Geyikbayırı located in different districts. If you want to start this comfort as soon as you reach the airport, you can take advantage of Antalya airport car rental service. 
If you want to reach the most popular resorts of Antalya, Alanya, Demre, Kalkan, Kaş, Konyaalti, Cirali, Kemer, Side and Belek in a shorter time, with comfort, Aslan Rent A Car offers you services with the most equipped vehicle options. 
How to Rent a Car at Antalya Airport?
Antalya Airport is located in the Muratpaşa district of the city. Aslanlar Rent A Car it also serves the same district. As soon as you reach the airport, you can take advantage of our company's Antalya Airport car rental services. At this point, Antalya Airport has domestic car rental or international car rental options. The conditions required for renting a car for domestic routes are usually the conditions we know in rental transactions. Here, a certain age limit becomes a requirement for the duration of the driver's license. In addition, additional driver, rental period, HGS-OGS pass fee, car October, deposit are requested from you. The transaction is terminated with the specified pay methods. You can take delivery of your vehicle after your transactions by visiting our office located at the airport. In Antalya Airport International car rental transactions, passport, identity document, signature declaration, etc. different documents may also be requested. 
What You Need to Know About Airport Car Rental
Renting a car from the airport is a service that starts your holiday enjoyment in the first minute. It saves you both time and provides a comfortable transportation opportunity. You can deliver your luggage and various belongings that you have brought with you more safely to the point where you will stay. You can also solve your transportation problem during your trips in this way. In addition, you will have found a solution against the sweltering heat of the summer months thanks to the air conditioning system. Antalya Airport is also rich in rental car options. You can find car options such as automatic or manual gear, sedan or hatchback. If you want to take advantage of this service, you should definitely consider the following issues before your transactions;
You must have exceeded the age limit specified in the rental transactions. This age limit may vary in each company. For this purpose, you can get information by calling our company or contacting us by e-mail before the transactions.
The duration of obtaining a driver's license is usually 2 years.
Paying methods require that the credit card be registered in your name. 
A helmet is made for your vehicle against possible accidents. This service fee is also requested from you.
You can rent the car daily, weekly or monthly. It can be a little difficult to find a car on a daily basis, especially in summer. It is recommended that you make the reservation and paying transactions in advance.
You can also give priority to your transactions by contacting us before your vacation. Especially if there is a vehicle that you want to prefer, you can book your car thanks to pre-transactions and a deposit.
You can get help from the support line 24/7 regardless of whether it is on domestic or international lines. 
Airport Car Rental Prices
Aslanslar Rent A Car, which brings comfort to your feet in car rental, continues its service with the same care in airport car rental options. In addition to delivery points in different districts, it welcomes guests arriving by air to the city with its professional service. Antalya airport offers car rental with the most advanced vehicle fleet for guests who keep comfort and time ahead during their Antalya holiday. You can start your trip with advantages by stopping at domestic and international points at the airport. Car rental prices, the model of your car, the rental period and the rental period, etc. it may vary with factors. You can get more detailed information by contacting us or visiting our offices.